What You Can Buy From Davao As Pasalubong Aside From Pomelo
The most common pasalubong from Davao are Pomelo (pictured below) and Durian - that stinking fruit that I've never learned to like (sorry durian lovers! I tried several times!).
Photo by GeekStinkBreath licensed under Creative Commons.
For today's
Monday Bites
, I'm going to feature an unusual (if not downright unheard of)
pasalubong
from Davao.
Find out what it is after the jump!
Dairy Best fresh cow's milk thanks to my
SIL's
introduction when she said milkbars! It was actually the "milkbar" name that got my attention which is the same milk only it's frozen. We had something similar in Cagayan de Oro (Highland Fresh milkbar) and as a child, I snacked on these for only PhP 5.00 per bar or about a dime if converted to USD.
I'm not really a milk person but I love this! If only I could bring boxes of these back to Manila! It tastes very different from the commercial processed milk you'd normally see in supermarkets. It's not too sweet, it's creamy, and it comes in a variety of flavors (so far I've only tried chocolate).
I actually brought back 5 bottles of this back to Manila but turned out I was already over the weight limit. I didn't have the heart to leave this behind, so I drank one bottle at the airport and finished it before boarding the flight. The airline personnel behind the counter was kind enough to let my other bottle in without charge (no, I'm not referring to Cebu Pacific!).
Unfortunately, these only keep for 5 days (even if refrigerated). So I had our househelp buy some bags for making ice candy and I had these frozen instead to be enjoyed later. Still, I would recommend that you consume this asap.
This is produced by the Federation of Davao Dairy Farmers Cooperative at their processing plant in Malagos, Baguio District, Davao City. We dropped by over the holidays after visiting Malagos Garden resort (a post on that is still in the works). Sad to see that aid for these farmers came from Japan. Shouldn't the help be coming from our own local government?
So I want to bring this to Manila in bulk. Any ideas how I can save on logistics?
Looking for a place to stay in Davao?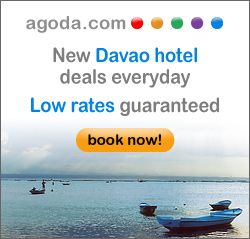 P.S. Yay, this is my 200th post, btw, as if anyone's counting!